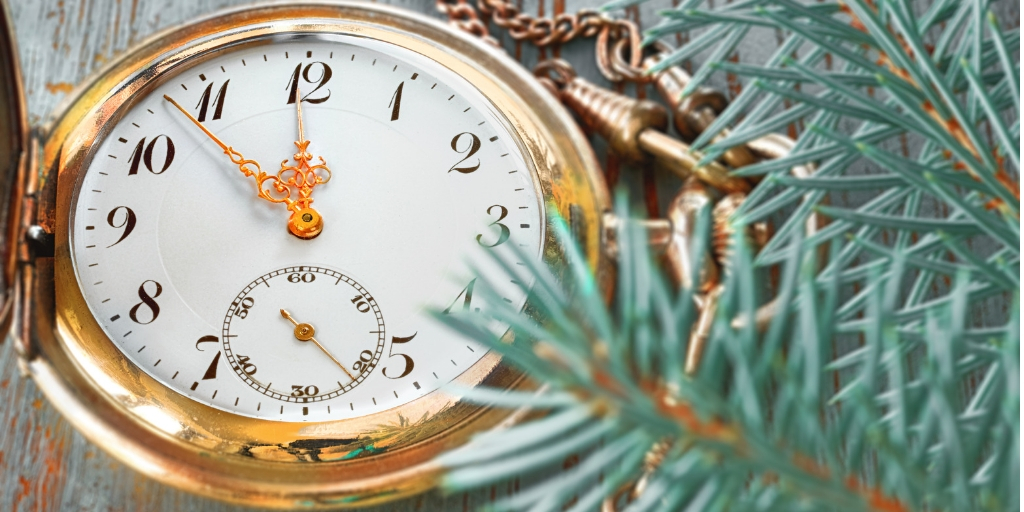 9 Financial Actions Pharma Employees Should Take Before Year End
Louis J. Butera, CFP® | November 21, 2022
Let's face it – our end-of-year checklists can grow pretty long, pretty fast. And if you're a pharma employee, that list can look a little different. Before you head out to ring in the new year, review these 9 actions to take care of so you can head into 2023 with your finances on the right track.
1. Don't Skimp On Your Savings
If there's one thing this year has taught us, it's the importance of having an emergency fund. If you haven't already, now is the time to ensure that you have enough money set aside to cover 3-6 months of necessary living expenses or unexpected extras.

And while things seem uncertain, don't shrink back from saving for the future or try to wait things out. Consistency and compound interest make all the difference in the growth of your investments. If possible, max out your contributions to your company's 401(k) by the end of the year to make the most of your retirement savings. 
2. Check Health And Dental Plans & Use Benefits
Many health benefits reset at the end of the year. You work hard for these perks, so be sure to use them! At the beginning of 2022, did you have good intentions of taking care of some dental work, blood tests, or other medical procedures lingering on your to-do list? 
Now's the time to take advantage of all your healthcare needs before your deductible resets. Dental plans in particular often have a maximum coverage amount. If you haven't used the full amount and anticipate any treatments, make it a priority to set an appointment before December 31st.
3. Rework Your Budget
With skyrocketing mortgage rates and record inflation in 2022, it would be wise to take another look at your budget to make sure your spending is in line with your goals and shift things around to manage your priorities. For example, this year might have shown you the importance of having financial margin and now you want to double down to get rid of debt. It's also possible that many of your daily expenses have experienced some ups and downs (or just ups). You might be spending more on gas, eating out, groceries, and more. Go into 2023 with a rock-solid budget that helps you feel financially secure.
4. Adjust Your Goals And Set New Ones 
Don't be afraid to set new goals for 2023. Look at your new budget and priorities and find ways to work toward your savings goals. Get creative with things you want to accomplish next year. You may be looking at that second home, thinking of upsizing or downsizing, or maybe you're planning to retire – whatever it may be, identify now what changes you can make to ensure a smooth transition. 
5. Review Changes For Open Enrollment
You can typically only make changes to your health and benefit plans once per year during the open enrollment period. If you haven't yet done so, review the coverages you have in place to see if anything is changing. Look at any premium changes that may apply to your benefit selections to see if any adjustments need to be made as well. 
6. Review 401(k) Investments
If you are contributing to your 401(k) plan, now is the time to review your investments. Is your allocation appropriate for your age and stage of your career? Are you contributing enough to retire on time and achieve the lifestyle you want in retirement? See if any fund changes or updates have occurred, and check in with your financial professional to make sure your 401(k) is on track for next year and beyond.
7. Use FSA/HSA Benefits That Won't Carry Over
You may not be able to carry over unused FSA benefits into next year. If that's the case, you'll want to use up as much of your FSA (flexible spending account) dollars as possible by the end of the year. Check the restrictions to see what you can use the money for, and take care of any needs your plan allows.
8. Mark Your Calendar For Next Year's Open Enrollment
Mark open enrollment for the following year on your calendar so you can put together a game plan for any changes that need to be made. Open enrollment comes and goes quickly, so planning out any changes you want to make ahead of time will make it much easier to review and benefit plan changes and make the changes you need to make. 
9. Schedule Semi-Annual Meetings With Your Financial Advisor
Schedule semi-annual check-ins with your financial advisor. Doing this will ensure you stay proactive with your plan so you will ultimately accomplish your financial goals, allowing you to enjoy the most important things in life. 
If you have not consulted a financial advisor before the year is over, seek out a financial professional who can take an objective look at your financial situation and help you take your finances to the next level regardless of what comes your way in the coming months and year. In a time of heightened emotions, dramatic headlines, and a temptation to panic, you need to know you have someone in your court watching out for your money and making sure you are on track to your ideal future. 
We hope you take comfort in knowing that Butera Wealth Management is here for you. Schedule a free, no-obligation phone call by contacting us at 484-455-2661 or emailing louis@buterawm.com. Learn how our 2nd Opinion Service can make a difference in your financial life. 
About Louis
Louis Butera is the founder and president of Butera Wealth Management, LLC, an independent wealth management firm operating out of Newton Square, Pennsylvania. With over 30 years of experience in the financial services industry, Louis specializes in serving pre-retirees who hold management or executive roles, particularly in the pharmaceutical industry. In 2015, he started his own firm with the express goal and vision of fostering meaningful relationships with clients to help them pursue financial independence and prepare for retirement. Louis and the Butera team provide a customized process to help their clients plan for every aspect of their financial life. Trust has always been key for Louis, and with this foundation, he has helped guide his clients through many different market cycles and life milestones. 
Louis is a CERTIFIED FINANCIAL PLANNER™ professional and has a bachelor's degree in business management from Ithaca College. When he's not working with his clients, Louis enjoys being outside, playing golf, skiing, and leading an active life with his wife, Michelle. They are both great supporters of local charities and their community. To learn more about Louis, connect with him on LinkedIn.
Disclaimer
The LPL Financial registered representative(s) associated with this website may discuss and/or transact business only with residents of the states in which they are properly registered or licensed. No offers may be made or accepted from any resident of any other state.
The opinions voiced in this material are for general information only and are not intended to provide specific advice or recommendations for any individual. All performance referenced is historical and is no guarantee of future results.
This material was prepared for Louis Butera's use.