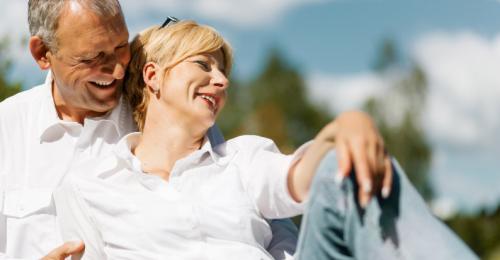 Case Studies: Helping Pharmaceutical Employees Through Proactive Financial Planning
Louis Butera | December 09, 2021
There is a common misconception in the financial planning profession that only ultra-wealthy people need financial advisors, or worse, that financial plans are only important for retirement. These beliefs couldn't be further from the truth. Proactive financial planning is for everyone and can help clients succeed in much more than just retirement.
But don't just take my word for it! Here are 3 different case studies that highlight all the different ways I've used financial planning to help pharmaceutical employees.
Case Study #1: Early Retirement
People often wonder when they can retire, and one couple I was working with had questions about early retirement. In their late 50s with three kids, the husband was working for a large pharma company and the wife worked in healthcare administration.
They had always planned to work until at least age 62, but the husband was presented with a retirement package at age 60. The COVID-19 pandemic had the couple rethinking their long-term goals, and they both wanted to retire to spend more time with family.
At that time, we ran multiple scenarios to assess the viability of retiring early. We evaluated the retirement package in the context of their entire financial plan and found that the husband's deferred compensation could bridge the gap between early retirement and their original retirement age. This was based on planning we had done years earlier!
By incorporating their various income sources, we were able to create a custom cash-flow plan that accounted for their current goals and objectives. After reviewing the plan, the couple made the decision to retire early. They felt confident that our work together addressed their concerns and that the plan could continue to be updated as their retirement evolved.
Case Study #2: Purchasing a Vacation Home
Many of my clients are successful families with career experience in the pharmaceutical industry. They've worked hard to build their wealth and want to make sure they spend it wisely. One such couple was in their mid-60s, already retired with four grown children.
They did not intend to buy a vacation home prior to retirement, but after a few grandchildren were born, they wanted a place where they could spend time as a whole family. They weren't sure if they could afford another home or how they would secure the down payment.
We assessed their current retirement plan, which allowed us to see the impact of a vacation home purchase on their finances, including whether or not their lifestyle would need to change or if they'd need to cut back on spending.
We also reviewed their various options for securing a down payment, including eliminating several we determined would result in unfavorable tax consequences and penalties. We found that their original home was already paid off, so we decided to use some of their home equity as a down payment. By increasing their IRA distributions, they would be able to pay down the loan quickly.
We also stress-tested this scenario with very conservative investment return projections just to play it safe. This allowed the couple to go into the purchase fully informed about how it would affect their future retirement plan.
Case Study #3: Unexpected Long-Term Care
It's not uncommon for me to meet with clients who haven't reviewed their insurance policies for years. This is especially true for long-term care, which many people often put on the back burner.
One married couple in their mid-60s came to me concerned about long-term care because of a recent experience caring for an elderly parent. They were worried about the financial and emotional strain future long-term care could cause for their children and they wanted to plan ahead just in case.
We stress-tested their retirement income showing how estimated long-term care costs could impact their lifestyle at later ages. We presented several different options, including self-funding versus buying insurance.
The couple decided to purchase a reasonable amount of affordable insurance and self-fund for the rest of the estimated expenses. We also worked together to develop a contingency plan in case they both need care at the same time. In this case, they are comfortable with selling their home to reduce any potential financial strain that would be placed on their children. The couple now feels more prepared for the future and the possibility of long-term care.
Helping You
At Butera Wealth Management, we work with a diverse range of clients, including many pharmaceutical employees. We can help you navigate questions about retirement, long-term care, large purchases, tax management, and more.
No matter the situation, we can help you through our proactive process that focuses on understanding your circumstances, addressing your concerns or fears, and creating strategies designed to help you achieve your goals.
If you're experiencing a situation similar to one of these case studies or face an entirely different need, we would love to hear from you! I'd be happy to evaluate your situation and share how I can help. Schedule a free, no-obligation phone call by contacting us at 484-455-2661 or louis@buterawm.com to learn how our 2nd Opinion Service can make a difference in your financial life.
About Louis
Louis Butera is the founder and president of Butera Wealth Management, LLC, an independent wealth management firm operating out of Newton Square, Pennsylvania. With over 30 years of experience in the financial services industry, Louis specializes in serving pre-retirees who hold management or executive roles, particularly in the pharmaceutical industry. In 2015, he started his own firm with the express goal and vision of fostering meaningful relationships with clients to help them pursue financial independence and prepare for retirement. Louis and the Butera team provide a customized process to help their clients plan for every aspect of their financial life. Trust has always been key for Louis, and with this foundation, he has helped guide his clients through many different market cycles and life milestones.
Louis is a CERTIFIED FINANCIAL PLANNER™ professional and has a bachelor's degree in business management from Ithaca College. When he's not working with his clients, Louis enjoys being outside, playing golf, skiing, and leading an active life with his wife, Michelle. They are both great supporters of local charities and their community. To learn more about Louis, connect with him on LinkedIn.
The opinions voiced in this material are for general information only and are not intended to provide specific advice or recommendations for any individual. All performance referenced is historical and is no guarantee of future results.
These are hypothetical situations based on real life experiences. Names and circumstances have been changed. To determine which investments or strategies may be appropriate for you, consult your advisor prior investing.